12 Fire Safety Tips for the Holidays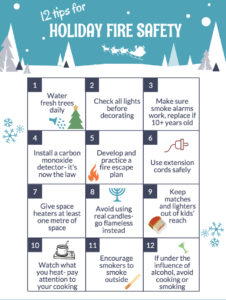 December is here, and with it comes another holiday season. Candles, fresh-cut Christmas trees, turkey, holiday party punch, decorating the house in lights – we look forward to enjoying all of these things this time of year. But, did you know these are all fire hazards, too?
Just in time for the holidays, here is a list of 12 fire safety tips. Fire safety is an important topic at any time of year, but there are a few added precautions you can take to keep your family and loved ones safe this holiday season:
Water fresh trees daily– Keep the base of the trunk in water at all times, and place your tree away from any ignition source like fireplaces, heaters or candles.
Check all lights before decorating– Discard any sets of lights that are frayed or damaged. Never plug more than 3 strings of lights together, and don't connect LED to conventional lights.
Make sure smoke alarms work and replace any over 10 years old– It's the law to have working smoke alarms on every storey of your home and outside sleeping areas. Test alarms monthly and replace batteries once per year.
Install a carbon monoxide (CO) alarm– If your home has a wood or gas fireplace, an attached garage or another fuel-burning device, you must have a working CO alarm outside every sleeping area- it's the law.
Develop and practice a home fire escape plan– make sure everyone in your family knows it, including guests who are staying over the holidays.
Use extension cords safely– Avoid overloading plugs and extension cords, as this can cause overheating and fire. Never put cords under rugs.
Give space heaters space– Keep them at least 1 metre away from things that could catch fire.
Avoid using real candles, go flameless instead– If you use real candles, keep them out of reach of children and pets, and remember to blow them out before leaving the room.
Keep matches and lighters out of kids' reach– If you smoke, have only one lighter or book of matches and keep it with you at all times.
Watch what you heat– Always stay in the kitchen and pay attention to your cooking, especially if using oil or high temperatures. If a pot catches fire, carefully slide a tight-fitting lid over the pot to smother the flames, then turn off the heat.
Encourage smokers to smoke outside– Careless smoking is the leading cause of fatal fires. Use large, deep ashtrays that can't be knocked over, and make sure cigarette butts are properly extinguished.
If under the influence of alcohol, avoid cooking or smoking– Alcohol is often a common factor in many fatal fires.
Click on a brochure below to learn more about these important topics!
Hello From Morden Fire & Rescue!
Seems like fall is quickly upon us whether we want it or not.
On the Fire Department, this also sparks (no pun intended) a new season of training and preparedness for members on the department.  Besides our regular training night, courses are kicked into high gear, and the majority of our members (35 total) have singed up for a variety of different courses to assist in expanding their knowledge to protect the citizens of our community in the best way possible.  This can be time consuming, but the end result is a safe, well trained fire fighter.  Thank you for all of the support given over the past year.  It is much appreciated among all of the members.
Now, as a fire prevention tip for the fall, remember, if you have a battery operated smoke detector in your home, replace the battery to make sure it is operational.  A good time to do this is when we roll the clocks back.  Also, fall brings lots of leaves.  Your fire pit in the back yard is NOT the spot to get rid of the leaves.  Morden is proud to provide a compost program, and leaves are ideal for this purpose.  Use the green bins or haul them to the compost site provided to us on the south end of town on Willcocks Road.
Andy Thiessen, Fire Chief
Morden Fire & Rescue