Fireworks Safety Tips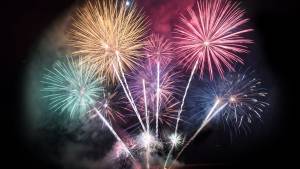 At this time of year, fireworks are at the forefront of most minds for Canada Day. However, fireworks are also popular at graduations, weddings and many other celebration gatherings. Morden Fire & Rescue would like to share some fireworks safety tips from purchasing and setting up, to the fireworks show and proper disposal. Regulation alone cannot protect the public. It must be combined with personal responsibility and awareness.
Purchasing:
Follow the laws and regulations regarding the use of fireworks.
Purchase your fireworks from a reliable source that sells products meeting safety standards.
Stay away from illegal explosives or firecrackers and do not improvise and make your own fireworks.
Setting Up:
Read the Instructions, this is worth repeating: read the instructions, cautions and warnings on each firework item.
Store unused fireworks in a closed box away from the firework being lit and do not smoke around the fireworks.
Set up outdoors in a clear, open space. Light fireworks on a hard, flat and level surface to insure stability.
Check the wind and have the wind blowing away from the spectators.
Spectators should be at least the safety distance written on the fireworks label away from the display, keeping special supervision on children.
Have a bucket of sand, supply of water and a working fire extinguisher on hand.
Fireworks Show:
Only adults (18 years or over) should handle the fireworks. If you are impaired (alcohol or drugs) do not handle the fireworks.
Light only one firework item at a time.
Wear protective eyeglasses and gloves. Light at arm's length and then stand back.
Never lean over the fireworks and keep your hair and clothes away from fire sources.
Never attempt to re-light a "dud" or defective firework.
Never hold a lighted firework item in your hand.
Proper Disposal:
Sparklers should be immersed in a bucket of sand to cool down after burning out, as they remain very hot for some time.
Fireworks should be disposed of safely and properly.
Morden Fire & Rescue knows that fireworks are popular, impressive and fun. Know the safety rules and respect the firework's firepower.
Click on a brochure below to learn more about these important topics!
Hello From Morden Fire & Rescue!
Seems like fall is quickly upon us whether we want it or not.
On the Fire Department, this also sparks (no pun intended) a new season of training and preparedness for members on the department.  Besides our regular training night, courses are kicked into high gear, and the majority of our members (35 total) have singed up for a variety of different courses to assist in expanding their knowledge to protect the citizens of our community in the best way possible.  This can be time consuming, but the end result is a safe, well trained fire fighter.  Thank you for all of the support given over the past year.  It is much appreciated among all of the members.
Now, as a fire prevention tip for the fall, remember, if you have a battery operated smoke detector in your home, replace the battery to make sure it is operational.  A good time to do this is when we roll the clocks back.  Also, fall brings lots of leaves.  Your fire pit in the back yard is NOT the spot to get rid of the leaves.  Morden is proud to provide a compost program, and leaves are ideal for this purpose.  Use the green bins or haul them to the compost site provided to us on the south end of town on Willcocks Road.
Andy Thiessen, Fire Chief
Morden Fire & Rescue