Fire Safety Tip of the Month – January
Fireplace & Wood Stove Fire Safety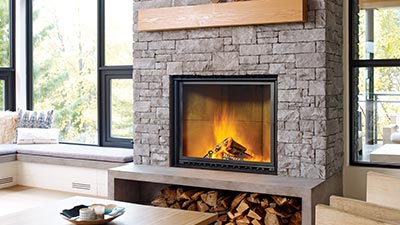 There is comfort in the crackling sound of a wood-burning fireplace or stove on a cold winter's night. But warm and cozy can quickly turn dangerous, destructive and deadly if your wood-burning unit is not properly installed or regularly maintained.
Consider these safety tips before you light your fireplace or wood stove.
Have your chimney cleaned twice a year and inspect your flue vents regularly. To prevent creosote from building up in your chimney flue, don't burn cardboard, trash or green wood.
Keep a Class A fire extinguisher on hand. Also, make sure

 

smoke alarms and carbon monoxide detector

s are installed in the proper locations and test them regularly.
Don't use gasoline, charcoal starter fluid or other flammable liquids to start your fire.
Teach your children to stay clear of hot stoves and burning fires. Never leave young children unattended when you're operating your fireplace or wood stove.
Let ashes cool in a metal container before discarding. They can contain live coals.
Store wood safely away from your wood-burning appliance. Check with your local fire department or wood stove manual for proper clearances.
Fireplace owners: Open the damper before you light your fire, and keep it open until the fire has burnt out and the ashes are cool. Use a screen to keep logs and embers inside your fireplace.
Wood stove owners: Have your fire department, building inspector, stove retailer or chimney sweep ensure your stove meets WETT (Wood Energy Technology Transfer) safety guidelines. If you're installing a new stove, place it well away from walls, furniture, curtains and other combustible material, and make sure it has proper clearance, a floor pad and a ventilation system.
With these precautions in place, you're ready to enjoy your fireplace or wood stove all winter long.
Click on a brochure below to learn more about these important topics!
Hello From Morden Fire & Rescue!
Seems like fall is quickly upon us whether we want it or not.
On the Fire Department, this also sparks (no pun intended) a new season of training and preparedness for members on the department.  Besides our regular training night, courses are kicked into high gear, and the majority of our members (35 total) have singed up for a variety of different courses to assist in expanding their knowledge to protect the citizens of our community in the best way possible.  This can be time consuming, but the end result is a safe, well trained fire fighter.  Thank you for all of the support given over the past year.  It is much appreciated among all of the members.
Now, as a fire prevention tip for the fall, remember, if you have a battery operated smoke detector in your home, replace the battery to make sure it is operational.  A good time to do this is when we roll the clocks back.  Also, fall brings lots of leaves.  Your fire pit in the back yard is NOT the spot to get rid of the leaves.  Morden is proud to provide a compost program, and leaves are ideal for this purpose.  Use the green bins or haul them to the compost site provided to us on the south end of town on Willcocks Road.
Andy Thiessen, Fire Chief
Morden Fire & Rescue